#3 Grade Galvalume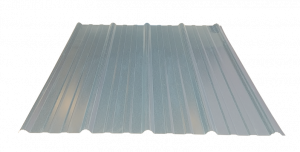 $2.40 per LF!
Cut to any length!
Theses panels are factory rejects for a number of reasons such as:
~ Water Stains
~ Scratches, dents and chips
~ Gauge Variations
And have
*NO WARRANTY*
#2 Grade
Clear Polycarbonate


$25ea!
8′ nominal length (panels vary from 7'10" to 8'2″)
These #2 Grade clear panels have ripples, dimples, and other inconsistencies. They are still the same profile as our standard 29ga roofing panels, which makes them perfect for skylights & windows in barns and sheds!